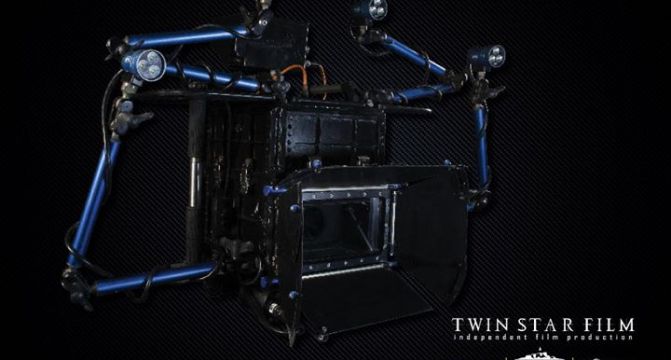 3D PRO-X (beam splitter/side by side)
UW housing for 3D camera rig with Beam Splitter or Side by Side rig for FULL HD CANON FX105 camera.
3D camera rig (Beam Splitter or Side by Side).
7" FULL HD underwater monitor serving both 3D camera rigs.
Underwater electronic control elements to govern all camera functions and regulate synchronisation.
Stabiliser wings on housing to facilitate fluid motion under the water and to stabilise the system.
Underwater LED lights facilitating direction adjustment and regulation of light intensity.
Battery packs for underwater lights. These can be replaced quickly and with ease.
INNOVATIVE TECHNOLOGY
Our underwater camera systems 3D PRO-X SB and 3D PRO-X SBS are unique in the realm of 3D underwater filming technology. The development and manufacture of these was inspired by the fact that no reliable system of similar scope exists on the current market. In co-operation with various Czech development centres Twin Star Film has developed the following prototypes: 3D PRO-X BS (an underwater Beam Splitter) and 3D PRO-X SBS (underwater Side by Side).
Both 3D PRO-X systems are the smallest of their kind in the world. This allows for relatively simple manipulation by a single diver-cameraman. This is a vital characteristic when filming underwater flora and fauna. Size and ease of manipulation are crucial when aiming for attractive shots.
Another innovation is full control of both cameras by a unique electronic module. The control unit provides continuous control of camera synchronisation while at the same time ensuring the control of all functions by means of special underwater controls mounted on the housing.
DEVELOPMENT OF THE TWIN STAR FILM 3D PRO-X SYSTEM
Because no company is currently manufacturing high quality and fully functional 3D underwater camera systems we decided to develop our own equipment.
During the first stage of this development we concentrated on the camera rigs. We began with a "Side by Side" concept where the two cameras are positioned next to each other. This rig was designed for our Great White Shark project. We then produced a Beam Splitter rig – this is a rig comprising a semi translucent mirror and is suitable for close-up shots. The third stage was the complicated job of fitting the cameras and rigs into the housing.
Since we were developing a unique construction system and mindful of camera safety under water we collaborated with several Czech companies. The final step was to kick-start the system and fine-tune the entire set-up. This is when we contacted partners in Germany, England and the USA for key components.
By the beginning of 2012 we had completed two unique underwater camera systems: 3D PRO-X UW BS and 3D PRO-X UW SBS